SHEN-GONG SEMINAR
Way of the Heart, Mind, Awareness & Spirit

What people from around the world all have in common when their friends and love ones are hurt or ill is the need for prayers, emotional support and sympathy for their recovery. Often this is in addition to the care they're already receiving from doctors and healers of one type or another. Besides divine intervention, I believe deep in most people's heart, they are secretly wishing or praying for the ability to heal them or themselves also. But despite not believing they can, everyone is born to do so.

The key is to be with energy, not matter. Let us show
you how. Your ability will develop immediately, not later.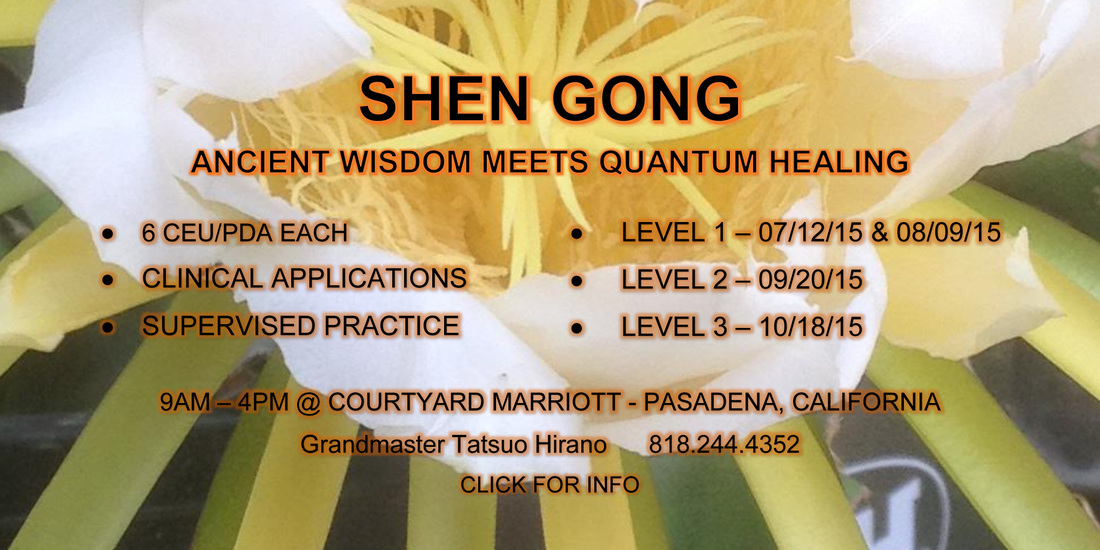 Who can benefit from this seminar? Everyone!
Level 1: Basics

Integration of Eastern & Western medicine and modern physics.

Achieving Shen state of awareness.

Exam & treatment of anatomical structures, meridians & points.

How to treat illness and pain. P1

Level 2: Intermediate


Exam & treatment of mental and emotional issues.

Exam & treatment of spinal and structural asymmetries.

How to treat illness and pain. P2

Integration of HSG to life.



Level 3: Advance


Exam & treatment of spiritual issues effect on health.
Exam & treatment to immune dysfunction, chronic illness and complicated medical complaints.
Exam & treatment of cysts, lumps and tumors.
Enhance performance.
All seminars starts at 9AM & ends at 4PM.
$150 per class. 6 hours of CEU/PDA each class.
CEUs and PDAs are for acupuncturist that require continued education to maintain their license.
Refund policy: We require 24 hour direct contact notice for a full refund. Less than 24 hours will result in a 10% surcharge.
Shen Gong is a natural progression from Qi-Gong. Simple, direct, immediate & effective.

Hirano Shen-Gong (HSG) is an intuitive method to exam and to correct body, mind and spiritual health. Although intuitive medicine is a contemporary term, it is far from that in practice and is traceable back to ancient times. To guide the energy with the mind is a well known method amongst traditional Qi-Gong and Tai-Qi practitioners. Yang is seen as the commander of Yin which implies that to direct and change the physical manifestations of matter (Yin) is indeed achievable through energetics of the mind (Yang).

Shen-Gong is a compound word in which Shen connotes heart, mind, spirit, perception and consciousness whereas Gong connotes work, achievement or


merit. In traditional Qi-Gong, Shen is the last and highest level of training. However, in Hirano Shen-Gong, Shen is the only level of training and all corrective applications are done with Shen.

In this three step seminar series, attendees will learn the basics (body), intermediate (mind) and advance (spirit) level practice of HSG methodology.

FACT
From a scientific point of view, theoretical physicists have identified two distinct things that make up our universe and that is energy and matter. Every object you see are composed of matter. Matter is everything around you. Atoms and molecules are all composed of matter. Matter is anything that has mass and takes up space. If you are new to the idea of mass, it is the amount of stuff in an object. However you can also say that matter is composed of atoms. Molecules are combinations of atoms so basically matter is atomic and is composed of both weak force and strong force. They are two of four identifiable energies in the Universe. The electrons that orbit within the atom's nucleus are not subatomic particles but rather they are associated with light, the third of the four energies. The fourth is gravity. E = MC2 refers to mass and light but does not include G or gravity. An equation that E = MC2 with G will ultimately represent the "Grand Ultimate Theory" or GUT for short. There is a passionate rush for this oneness equation but it is yet to be accomplished. If and when they do, the interrelationship of it all will become clear and it will qualitatively change our way of life and science completely.

Based on this view of energy and matter, then it is logical to treat everything as being made entirely of energy. Within energy you will find a negative and positive property. The ancient Chinese sages refer to this negative and positive property as Yin and Yang. This polarity is what results in balance and symmetry and everything follows this natural phenomenon and the human body is no exception. Asymmetry will weaken and break down mass until this bipolar force restores symmetry. This balancing force connects everything

together and is called "Quantum Entanglement". First coined by Erwin Schrodinger 1932, he used it to describe the correlation between two particles in a letter he wrote to Albert Einstein on his critique study levelled against the Copenhagen interpretation of quantum mechanics called the EPR paradox. This theory was verified in 1982 by Alain Aspect's experiment using correlated photons rather than particles.

Light's polarity expresses itself as electro-magnetism. This electromagnetism is not only an energy source but it is also a channel for information distribution and communication. The same holds true for matter and the role of strong and weak force. This is what makes it possible to send and receive information through light, such as optic cables, or through space through electromagnetic radio frequencies by way of computers or transceivers.

The theory, quantum entanglement, best describes why we are able to intuitively make ourselves and others sick or make it well. Energy and matter are interchangeable. The Universe is actually an unified informational structural field and the key is to know how to use it to our benefit!

Earth rotates around the Sun and the Sun rotates with the Milky Way Galaxy, which is only a small part of countless galaxies in our universe. This puts us into perspective and answers questions such as, "what are we part of". Whether the birth of the universe is from a scientific or a creationist's view, one thing for sure is that it started from a shared origin. We are part of only one huge magnificent sky and energetically imbedded in its' entangled conscious field!